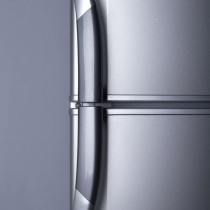 There are multiple types and brands of refrigerators or fridges available in the market today. Everyone wishes to be informed before making a buying decision of a refrigerator. Most sources on the Internet provide details on features and reviews. Electricity consumption hardly becomes the deciding factor. To help people make electricity consumption as deciding factor, we at Bijli Bachao have decided to put up a list of Top Ten refrigerators in India by electricity consumption and size.
The basis of this ranking is the data from BEE (Bureau of Energy Efficiency). BEE data contains yearly electricity consumption of a refrigerator and this information is self reported by the manufacturers. The data is calculated in test conditions.
We have taken the data on electricity consumption and categorised it by the capacity or volume of the refrigerator. The refrigerator with the least value of units/lts is given the highest ranking. Multiple models with the same value are given the same rank.
The list below contains only the top ten ranked refrigerators. List of all BEE star rated refrigerators are available on the useful links given below.
Use the 'Add to compare' icon to compare the monetary value of the units available from BEE based on your tariff from your electricity provider and your usage.
Please note Direct Cool refrigerators are single door refrigerators and Frost Free refrigerators are multi door refrigerators.
We regularly update this list as new models get added in the BEE list of refrigerators.
Top Ten Refrigerators
Click on the category button below to choose a category.
Frost Free (< 300 lts)
RankBrandModelGross
VolumeUnits
Consumption Per Year
| | | | | |
| --- | --- | --- | --- | --- |
| 1 | LG | GL-D302RPJL | 285.00 | 242.00 |
| 1 | | GL-E302RPTL | 285.00 | 242.00 |
| 1 | | GL-M302RATL | 285.00 | 242.00 |
| 1 | | GL-M302RLTL | 285.00 | 242.00 |
| 1 | | GL-P302RPJL | 285.00 | 242.00 |
| 2 | WHIRLPOOL | FF 2D 305 4S | 292.00 | 259.00 |
| 3 | SAMSUNG | RT29HDRZESA/TL | 275.00 | 248.00 |
| 4 | LG | GL-P292RPJL | 258.00 | 238.00 |
| 4 | | GL-D292RPJL | 258.00 | 238.00 |
| 4 | | GL-M292RLTL | 258.00 | 238.00 |
| 4 | | GL-M292RATL | 258.00 | 238.00 |
| 4 | | GL-E292RPTL | 258.00 | 238.00 |
| 5 | SAMSUNG | RT27HDRZESA/TL | 253.00 | 244.00 |
| 6 | WHIRLPOOL | FF 2D 275 4S | 262.00 | 253.00 |
| 7 | WHIRLPOOL | FF 2D 305 5S | 292.00 | 318.00 |
| 7 | | FF 2D 305 3S | 292.00 | 318.00 |
| 8 | SAMSUNG | RT29HAJSAWX/TL | 275.00 | 305.00 |
| 8 | | RT29HAJSARX/TL | 275.00 | 305.00 |
| 8 | | RT29HAJSALX/TL | 275.00 | 305.00 |
| 8 | | RT29HAJSARY/TL | 275.00 | 305.00 |
| 8 | | RT29HAJSAS3/TL | 275.00 | 305.00 |
| 8 | | RT29HARZASP/TL | 275.00 | 305.00 |
| 8 | | RT29HAJYASA/TL | 275.00 | 305.00 |
| 8 | | RT29HAJSAPX/TL | 275.00 | 305.00 |
| 9 | HAIER | HRF-2903 | 270.00 | 309.00 |
| 10 | GODREJ | RT EON 260 PS 3.3 | 260.00 | 307.00 |
| 10 | | RT EON 260 PS 5 | 260.00 | 307.00 |
Frost Free (300 lts to 400 lts)
RankBrandModelGross VolumeUnits Consumption Per Year
| | | | | |
| --- | --- | --- | --- | --- |
| 1 | LG | GL-D322RPJZ | 310.00 | 198.00 |
| 2 | SAMSUNG | RT39HDJTESP | 393.00 | 276.00 |
| 2 | | RT39HDAGESL | 393.00 | 276.00 |
| 3 | LG | GL-D402RLJM | 360.00 | 256.85 |
| 4 | LG | GL-D402RPHM | 360.00 | 256.92 |
| 4 | | GL-D402RSHM | 360.00 | 257.00 |
| 4 | | GL-D402RPJM | 360.00 | 257.00 |
| 5 | LG | GL-P402RPJM | 360.00 | 264.00 |
| 5 | | GL-P402RSJM | 360.00 | 264.00 |
| 6 | LG | GL-D372RPJM | 335.00 | 253.00 |
| 6 | | GL-D372RSHM | 335.00 | 253.00 |
| 6 | | GL-D372RPHM | 335.00 | 253.00 |
| 6 | | GL-D372RLJM | 335.00 | 253.00 |
| 7 | WHIRLPOOL | FF 2D 375 4S | 360.00 | 275.00 |
| 8 | SAMSUNG | RT36HDRZESL/TL | 345.00 | 265.00 |
| 9 | LG | GL-P372RSJM | 335.00 | 260.00 |
| 9 | | GL-P372RPJM | 335.00 | 260.00 |
| 10 | LG | GL-D322RPJL | 310.00 | 247.00 |
| 10 | | GL-E322RPTL | 310.00 | 247.00 |
| 10 | | GL-M322RATL | 310.00 | 247.00 |
| 10 | | GL-M322RLTL | 310.00 | 247.00 |
| 10 | | GL-P322RPJL | 310.00 | 247.00 |
| 10 | | FF 2D 355 4S | 340.00 | 271.00 |
Frost Free (400 lts to 500 lts)
RankBrandModelGross VolumeUnits Consumption Per Year
| | | | | |
| --- | --- | --- | --- | --- |
| 1 | LG | GL-M542GPHM | 495.00 | 299.00 |
| 2 | LG | GL-M522GSHM | 470.00 | 290.00 |
| 3 | SAMSUNG | RT49H567ESL | 481.00 | 299.00 |
| 4 | SAMSUNG | RT47H567ESL | 462.00 | 296.00 |
| 5 | HITACHI | R-VG540PND3 | 489.00 | 317.00 |
| 5 | | R-V540PND3KX | 489.00 | 317.00 |
| 5 | | R-V540PND3K | 489.00 | 317.00 |
| 6 | LG | GL-M472GPHM | 420.00 | 282.00 |
| 6 | | GL-M472GSHM | 420.00 | 282.00 |
| 6 | | GL-M472GLJM | 420.00 | 282.00 |
| 7 | SAMSUNG | RT42HAUDEGL | 415.00 | 281.00 |
| 7 | | RT42HDAGESL | 415.00 | 281.00 |
| 8 | HITACHI | R-V470PND3K | 451.00 | 334.00 |
| 8 | | R-VG470PND3 | 451.00 | 334.00 |
| 9 | SAMSUNG | RT49H5679SL | 481.00 | 360.00 |
| 10 | SAMSUNG | RT47H5679SL | 462.00 | 350.00 |
Frost Free (> 500 lts)
RankBrandModelGross VolumeUnits Consumption Per Year
| | | | | |
| --- | --- | --- | --- | --- |
| 1 | HITACHI | R-V720PND1KX-1 | 655.00 | 357.00 |
| 2 | HITACHI | R-V720PND1KX | 655.00 | 367.00 |
| 3 | HITACHI | R-VG660PND3 | 601.00 | 339.00 |
| 3 | | R-V660PND3KX | 601.00 | 339.00 |
| 3 | | R-V660PND3K | 601.00 | 339.00 |
| 4 | SAMSUNG | RT56H667ESL | 555.00 | 318.00 |
| 5 | HITACHI | R-V610PND3K | 565.00 | 331.00 |
| 5 | | R-V610PND3KX | 565.00 | 331.00 |
| 5 | | R-VG610PND3 | 565.00 | 331.00 |
| 6 | SAMSUNG | RT54H667ESL | 528.00 | 312.00 |
| 7 | SAMSUNG | RT56H6679SL | 555.00 | 380.00 |
| 8 | SAMSUNG | RT54H6679SL | 528.00 | 370.00 |
| 9 | LG | GR-B812GSPH | 639.00 | 451.00 |
| 10 | LG | GR-B772GSPH | 608.00 | 440.00 |
Direct Cool (< 200 lts)
RankBrandModelGross VolumeUnits Consumption Per Year
| | | | | |
| --- | --- | --- | --- | --- |
| 1 | GODREJ | RD EP 190PDS | 190.00 | 204.00 |
| 1 | | RD EP 190 CW | 190.00 | 204.00 |
| 1 | | RD EP 190PD | 190.00 | 204.00 |
| 2 | GODREJ | RH EDGE DIGI 190 PDS 5.1 | 190.00 | 238.00 |
| 3 | SAMSUNG | RA20GCLS1/CTL | 195.00 | 246.00 |
| 3 | | RA20GCPN1/CTL | 195.00 | 246.00 |
| 3 | | RA20HCLS1/CTL | 195.00 | 246.00 |
| 3 | | RA20FCIG1/CTL | 195.00 | 246.00 |
| 3 | | RA20FCPP1/CTL | 195.00 | 246.00 |
| 3 | | RA20HCLP1/CTL | 195.00 | 246.00 |
| 3 | | RA20GCPR1/CTL | 195.00 | 246.00 |
| 3 | | RA20GCGL1/CTL | 195.00 | 246.00 |
| 3 | | RA20GCLP1/CTL | 195.00 | 246.00 |
| 3 | | RA20GCPS1/CTL | 195.00 | 246.00 |
| 3 | | RA20GCRR1/CTL | 195.00 | 246.00 |
| 3 | | RA20HCUX1/CTL | 195.00 | 246.00 |
| 3 | | RA20GCTS1/CTL | 195.00 | 246.00 |
| 3 | | RA20GCSR1/CTL | 195.00 | 246.00 |
| 3 | | RA20HCSR1/CTL | 195.00 | 246.00 |
| 3 | | RA20HCRR1/CTL | 195.00 | 246.00 |
| 4 | SAMSUNG | RA19ADES1/XTL | 190.00 | 239.97 |
| 4 | | RA19FDAR1/XTL | 190.00 | 240.00 |
| 5 | LG | GL-205KMG5 | 190.00 | 245.00 |
| 5 | | GL-205KMDG5 | 190.00 | 245.00 |
| 5 | | GL-205XEDA5 | 190.00 | 245.00 |
| 5 | | GL-205KF5 | 190.00 | 245.00 |
| 5 | | GL-205KLG5 | 190.00 | 245.00 |
| 5 | | GL-205KAG5 | 190.00 | 245.00 |
| 5 | | GL-205KM5 | 190.00 | 245.00 |
| 5 | | GL-205KA5 | 190.00 | 245.00 |
| 5 | | GL-205KSGA5 | 190.00 | 245.00 |
| 5 | | GL-205XEGA5 | 190.00 | 245.00 |
| 5 | | GL-205XFGA5 | 190.00 | 245.00 |
| 5 | | GL-205XADG5 | 190.00 | 245.00 |
| 5 | | GL-205XFDG5 | 190.00 | 245.00 |
| 5 | | GL-205KFG5 | 190.00 | 245.00 |
| 5 | | GL-205KL5 | 190.00 | 245.00 |
| 5 | | GL-205KADG5 | 190.00 | 245.00 |
| 5 | | GL-201KADG5 | 190.00 | 245.00 |
| 5 | | GL-205XFGE5 | 190.00 | 245.00 |
| 5 | | GL-205XFDE5 | 190.00 | 245.00 |
| 5 | | GL-205XADE5 | 190.00 | 245.00 |
| 5 | | GL-205KAGE5 | 190.00 | 245.00 |
| 6 | PANASONIC | NR-AH183 | 185.00 | 239.50 |
| 7 | SAMSUNG | RR1915TCALX/TL | 192.00 | 249.00 |
| 7 | | RR1915RCABX/TL | 192.00 | 249.00 |
| 7 | | RR1915CCASA/TL | 192.00 | 249.00 |
| 7 | | RR1915TCASY/TL | 192.00 | 249.00 |
| 7 | | RR1915RCAVL/TL | 192.00 | 249.00 |
| 7 | | RR1915BCARR/TL | 192.00 | 249.00 |
| 7 | | RR1915TCARX/TL | 192.00 | 249.00 |
| 7 | | RR1915RCASZ/TL | 192.00 | 249.00 |
| 7 | | RR1915RCAPZ/TL | 192.00 | 249.00 |
| 7 | | RR1915CCASE/TL | 192.00 | 249.00 |
| 7 | | RR1915BCASE/TL | 192.00 | 249.00 |
| 8 | SAMSUNG | RR2015RSBVL/TL | 195.00 | 255.00 |
| 8 | | RR2015CSBSA/TL | 195.00 | 255.00 |
| 8 | | RR2015CSBRR | 195.00 | 255.00 |
| 8 | | RR2015RSBSP | 195.00 | 255.00 |
| 8 | | RR2015RSBSJ | 195.00 | 255.00 |
| 8 | | RR2015RSBRJ | 195.00 | 255.00 |
| 8 | | RR2015SSBSU | 195.00 | 255.00 |
| 8 | | RR2015SSBSZ | 195.00 | 255.00 |
| 8 | | RR2015SSBPZ | 195.00 | 255.00 |
| 8 | | RR2015SSBBL | 195.00 | 255.00 |
| 8 | | RR2015CSBRH/TL | 195.00 | 255.00 |
| 8 | | RR2015SSBRX/TL | 195.00 | 255.00 |
| 8 | | RR2015SSBPX/TL | 195.00 | 255.00 |
| 8 | | RR2015SSBBX/TL | 195.00 | 255.00 |
| 9 | SAMSUNG | RA19ACES3/XTL | 190.00 | 249.00 |
| 9 | | RA19ACTR3/XTL | 190.00 | 249.00 |
| 10 | SAMSUNG | RA19AHES3/CTL | 192.00 | 255.00 |
| 10 | | RR1915ASBSE | 192.00 | 255.00 |
| 10 | | RR1915ASBRR | 192.00 | 255.00 |
| 10 | | RA19AHTR3/CTL | 192.00 | 255.00 |
Direct Cool (200 lts to 300 lts)
RankBrandModelGross VolumeUnits Consumption Per Year
| | | | | |
| --- | --- | --- | --- | --- |
| 1 | LG | GL-285BE5 | 270.00 | 263.00 |
| 1 | | GL-285BMG5 | 270.00 | 263.00 |
| 1 | | GL-285BNG5 | 270.00 | 263.00 |
| 1 | | GL-285BEG5 | 270.00 | 263.00 |
| 1 | | GL-285BM5 | 270.00 | 263.00 |
| 2 | GODREJ | RD EP 240 PD | 240.00 | 241.00 |
| 2 | | RD EP 240 PDS | 240.00 | 241.00 |
| 3 | WHIRLPOOL | DC 260 5S | 245.00 | 254.00 |
| 4 | GODREJ | RD EP 210PDS | 210.00 | 227.00 |
| 5 | SAMSUNG | RA23FDAR1/XTL | 230.00 | 250.00 |
| 6 | LG | GL-245BLGA5 | 235.00 | 256.00 |
| 6 | | GL-245BSGA5 | 235.00 | 256.00 |
| 6 | | GL-245BME5 | 235.00 | 256.00 |
| 6 | | GL-245BNDE5 | 235.00 | 256.00 |
| 6 | | GL-245BAGE5 | 235.00 | 256.00 |
| 6 | | GL-245BMG5 | 235.00 | 256.00 |
| 6 | | GL-245BAD5 | 235.00 | 256.00 |
| 6 | | GL-245BEDG5 | 235.00 | 256.00 |
| 6 | | GL-245BM5 | 235.00 | 256.00 |
| 6 | | GL-245BDD5 | 235.00 | 256.00 |
| 6 | | GL-245BLGE5 | 235.00 | 256.00 |
| 6 | | GL-245BLG5 | 235.00 | 256.00 |
| 6 | | GL-245BEG5 | 235.00 | 256.00 |
| 7 | GODREJ | RH EDGE DIGI 210 PDS 5.1 | 210.00 | 231.00 |
| 8 | GODREJ | GDE 26 DX4 | 251.00 | 278.00 |
| 8 | | GDE 26 BX4 | 251.00 | 278.00 |
| 9 | GODREJ | GDE 26 BX1 | 251.00 | 280.00 |
| 10 | HAIER | HRD-2715 | 251.00 | 282.00 |
Direct Cool (> 300 lts)
RankBrandModelGross VolumeUnits Consumption Per Year
| | | | | |
| --- | --- | --- | --- | --- |
| 1 | VIDEOCON | VCP325 | 307.00 | 290.00 |
| 1 | | KCP325 | 307.00 | 290.00 |
| 1 | | KCE325 | 307.00 | 290.00 |
| 1 | | VCL325 | 307.00 | 290.00 |
| 1 | | ICP325 | 307.00 | 290.00 |
| 2 | VIDEOCON | VCP324 | 307.00 | 357.00 |
| 2 | | KCP324 | 307.00 | 357.00 |
| 3 | WHIRLPOOL | DC 32 4S | 310.00 | 370.00 |
| 4 | WHIRLPOOL | DC 32 | 310.00 | 395.00 |
| 4 | | FC 32 | 310.00 | 395.00 |