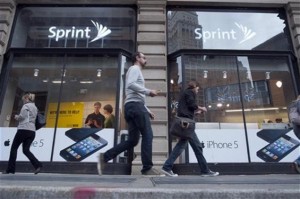 $25.5 billion is the cash & stock deal raised for Sprint Nextel Corp & the bid raised to bought this Corp was much higher than Japanese Mobile Phone Company Soft bank than Dish Network.
Japanese firm Soft Bank Corp is looking to close the deal by acquiring 70 percent of Sprint Nextel's stake i.e. investing $20 billion & if this deal happens then it would be the biggest foreign acquisition ever. As per some sources the deal was going to be closed or finished off within summer.
Again the proposed transaction from an Satellite Television company i.e. none other than Dish Network includes $17.3 billion in cash and $8.2 billion in stock.
Each share worth $7 almost 13 percent of the premium would be received by Sprint which recently closed with $6.22 per share. $4.76 is the worth of single share in terms of share & 0.05953 Dish shares per Sprint share.
Already 13 percent premium to the existing SoftBank offer as per commented by Dish Network Corp. As a result Sprint could have save $11 billion by accepting the proposal.
$8.2 billion may be the amount funded in terms of cash from Charles Ergen Dish Network Chairman mentioned in a letter sent to James H. Hance Jr Chairman of Sprint.