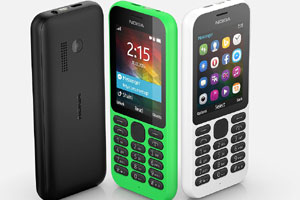 Microsoft has yet not given up on the feature phone market. In fact, after the completion of the Nokia handset business, it arguably commands one of the largest feature phone portfolios in the world. Its latest Nokia 215 strives to connect people to the Internet for only $29, which converts to roughly Rs.1,800.
The idea is to connect the next billion. According to the Redmond based giant, 60 per cent of the world's population is still not connected to the Internet and ultra cheap options like the 215 help fulfil that gap.
While the world is moving towards smartphones, it is a fact that feature phones still have a massive market share. The market for feature phones is shrinking quickly, but it is something Microsoft is trying to address by packaging its cloud services on low-cost devices like the 215.
Offered in dual-SIM and single SIM variants, the Nokia 215 is a 2G (Edge) enabled feature phone that connects to the Internet. It has a 2.4-inch QVGA screen and runs on Nokia's feature phone OS.
The phone comes preloaded with a Facebook app, an app for the Facebook Messenger, Twitter, Bing Search and the MSN Weather app. For web browsing it has the Opera Mini web browser.
It has a 1,100mAh battery. Microsoft claims that the phone can deliver 20 hours of talk time, and 29 days of standby time on the single SIM model. The dual-SIM model lasts lesser and has 21 days of standby time.
The phone comes with a microSD card slot support up to 32GB of storage and play MP3 audio for 50 hours at a stretch. It even has a FM radio built-in and can play at a stretch at 45 hours.
For sharing files it comes with Bluetooth 3.0 with the SLAM sharing protocol. On the back, it even has a 0.3-megapixel camera with which you can record video at 15 frames per second. Like the iconic 1100, it even has a LED light on the top, which acts like flashlight when needed.
The phone will be available in select few markets, starting in Europe, Africa, Middle East and Asia in Q1 of 2015. The phone will be available in Green, Black and White.