Just a few days ago there were news reportsregarding HTC developing a phablet device, which has been codenamed T6. The specifications of this device have now been leaked online
The specifications of this phablet have been leaked by the twitter user @evleaks. It is noteworthy that he was also the source who tipped the codename of the phablet.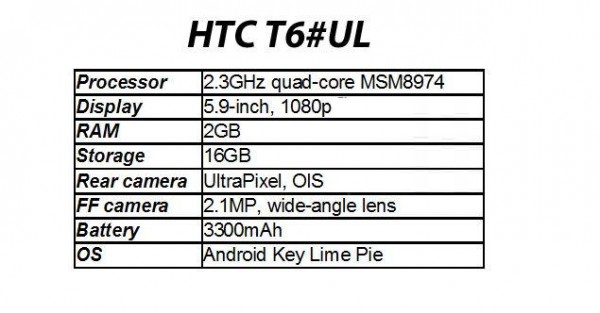 As per the news report by TheUnlocker.com via @evleaks, HTC T6 will allegedly come with a 5.9-inch full-HD display. The phablet will be powered by 2.3GHz quad-core Snapdragon 800 processor along with 2GB of RAM. The internal storage available on the phablet will be 16GB and will support external microSD card to further increase the available storage.
The report also suggests that HTC T6 will come with a 3,300mAh battery, which is the largest battery capacity offered by a HTC device till date. The phablet is also touted to come with front dual Boomsound speakers with dedicated audio processor. Just like the HTC One, the HTC T6 will come with an Ultrapixel camera along with LED flash. There will also be a 2.1-megapxiel rear camera on-board.
From the specification it appears that this phablet from HTC will be competing head on with the forthcoming Samsung Galaxy Note III. Just like the Galaxy Note devices, HTC too will be providing pen-based input along with this device.
The news report suggests that HTC T6 will ship with Android Key Lime out of the box. However, Google is touted to launch the next version of Android in the third or fourth quarter of this year while @eveleaks is suggesting a summer release for this phablet. HTC will also be layering this phablet with the latest version of Sense UI.
Furthermore, it is being pegged that HTC will be packing in fingerprint reader on the back of the HTC T6. The phablet is also expected to come with a protective-case-cum-backup-battery jacket, which will provide a 1250 mAH battery in addition to the 3,300 mAh battery.