The Google Play editions of the Samsung Galaxy S4 and the HTC One are receiving an OTA update that will upgrade them to Android 4.3.
The update arrives merely a week after it was officially announced and started rolling out for the Nexus devices. In fact, many of the Nexus devices are still to receive the update, so you can say the Google Play editions are more or less on par with the Nexus devices in terms of receiving updates.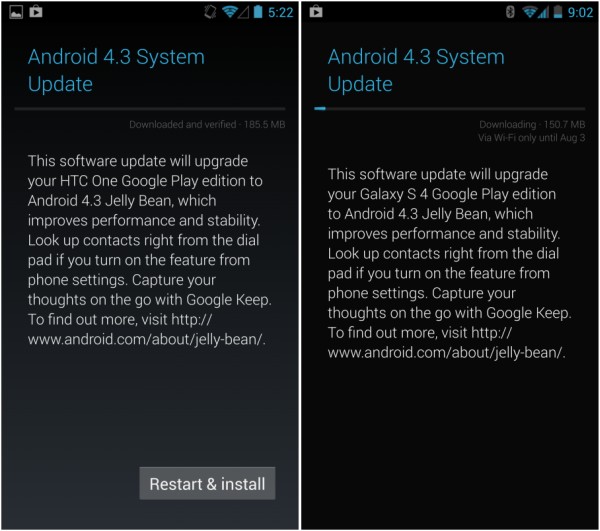 When Google announced the Google Play edition of the S4, they promised quick updated along with a stock Android experience. These are two of the main reasons to get these devices over their standard versions that come with OEM customizations and are bound to receive the 4.3 update much, much later.
The Android 4.3 update was announced last week at an event, alongside the new Nexus 7 tablet and the Chromecast media streaming device. Although not a major update, it brings features such as restricted user profiles (only on tablets), Bluetooth Low Energy profile, virtual surround sound, autocomplete for dialpad, improved keyboard, OpenGL ES 3.0 support and a handful of other things. You can find a list of Android 4.3 features here.
Over and above these features, the Android 4.3 update enables Bluetooth tethering on the Galaxy S4 and the IR port on the One.
You can check out our review of the Google Play edition Galaxy S4 and the One here and here, respectively.