The Jolla smartphone runs Sailfish OS – a successor of the MeeGo open platform, which Jolla took and developed further. In a way, it could be viewed as MeeGo 2.0 However, Jolla would like to start fresh and not carry the burden of its neighbor, who abandoned the project that many truly loved.
We are yet to see if the new Finnish kid on the block will feature the same sort of magic as the Nokia N9, which made so many mourn the end of MeeGo. For starters here are the key Jolla specs.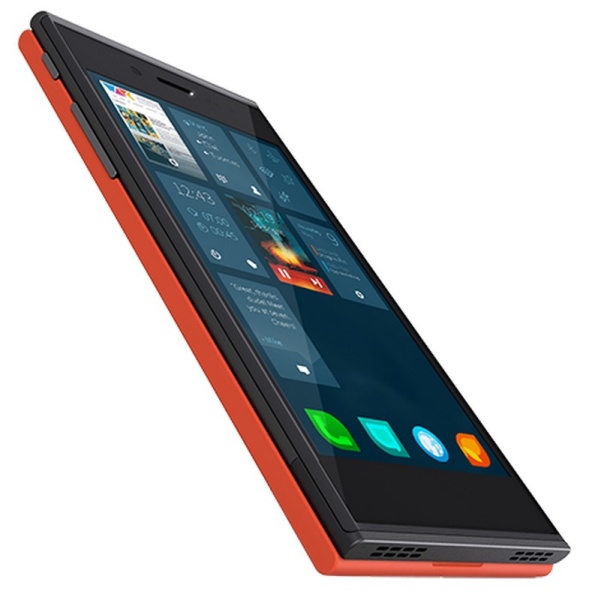 Jolla at a glance
Dimensions: 131 x 68.0 x 9.9mm, 143g
Display: 4.5″ IPS LCD display of 960 x 540 pixels resolution, Gorilla Glass 2, 245ppi pixel density
Chipset: Qualcomm Snapdragon 400; dual-core Krait 200 at 1.4GHz, Adreno 305 GPU, 1GB RAM
OS: Sailfish OS
Camera: 8MP, 3264 x 2448 pixels, autofocus, LED flash
Video camera: 1080p @ 30fps video capture with main camera
Storage: 16GB built-in, microSD card slot with support of up to 64GB
Connectivity: NFC, A-GPS+GLONASS, WLAN b/g/n, microUSB 2.0, Bluetooth 4.0 LE
Battery: 2,100mAh Li-Ion
Misc: Android app compatibility via the Yandex.Store and Amazon Appstore
Given the price tag, the mid-range specifications came as somewhat of a nasty surprise when Jolla unveiled its smartphone. However history has shown that a smartphone can be much more than a sum of its parts and we shouldn't write off any device before giving it a proper test.
And while the screen resolution could have certainly been higher, you can't blame this one for skimping on innovation. The Jolla phone is made out of a unique combination of aluminum and premium plastic and sports a replaceable back panel dubbed "the Other Half", which allows you to automatically change profiles with covers. The smartphone is meant to
Given the unique situation that the newly born company faces, that seems to be the only logical step to take – building a very close relationship with its first customers. These are the people who are ready to invest their hard-earned cash into the unknown and they should be treated deserve something beyond mere specifications.
Follow us after the break as we take a look at the hardware of the first Jolla smartphone.
Design and built quality
The Jolla has a very intriguing design that's definitely appealing. Since the junior phonemaker is made entirely out of Nokia renegades that keep the MeeGo spirit in their hearts, the Jolla ought to be a worthy successor to the Nokia N9, which calls out for a solid built quality and cool, innovative design.
We are happy to report that the Jolla delivers. The phone sports the so-called two-half design – Jolla frequently refers to each of the halfs as "pillow". The front half, which holds the phone's internals, is made out of aluminum. The second half is actually the back cover and is made out of plastic. Thankfully, it's of the premium kind and complements the aluminum well.
As we mentioned earlier, this is the "Other Half" – each Jolla back cover is equipped with an NFC chip. Once snapped into place, the chip communicates with the phone, and the phone can apply a major user interface overhaul every time a new back cover is snapped. Our only gripe with it is that it's a bit hard to remove and makes an unpleasant cracking noise when you peel it off the back.
Display
The Jolla smartphone is built around a 4.5″ IPS LCD display, which seems to be a common display size for mid-range smartphones lately. It sports a resolution of 960 x 540 pixels giving it a pixel density of 245ppi. You don't need us to tell you that this is disappointing, considering there are phones twice as cheap that sport 720p resolution.
Jolla could've done better here, but at least the display is covered with a Gorilla Glass 2 protective layer, which should help against light scratches.
The display itself is decent in color rendering, but fails to impress us in terms of contrast and is not even as good as some mid-range smartphones, such as the Moto G. The viewing angles aren't perfect and there's notable color when you are not looking stratigh at the screen.
Display test
50% brightness
100% brightness
Black, cd/m2
White, cd/m2
Contrast ratio
Black, cd/m2
White, cd/m2
Contrast ratio
Jolla
0.27
215
800
0.58
441
766
Motorola Moto G
0.35
315
906
0.57
550
967
Sony Xperia C
0.18
151
842
0.66
639
962
Oppo R819
0.56
607
1078
0.62
754
1210
Samsung I9082 Galaxy Grand
0.37
382
1040
0.62
586
948
Huawei Ascend P6
0.14
136
986
0.62
670
1080
Apple iPhone 5
0.13
200
1490
0.48
640
1320
Brightness isn't too impressive and combined with the rather high reflectivity lead to rather disappointing performance of the Jolla screen outdoors.