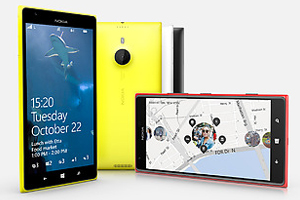 Nokia has launched its new flagship smartphone, Lumia 1520 in the Indian smartphone market. The handset is the first Nokia device with a 6-inch screen and quad-core processor and was unveiled globally in Abu Dhabi in September. At Rs 46,999, it is among the most expensive Nokia smartphones in the market.
Lumia 1520 has a full HD (1080p) display and runs on a 2.2GHz quad-core Snapdragon 800 processor, the most powerful in the world right now. On the back, this handset sports a 20MP PureView camera with optical image stabilization.
The handset also has 2GB RAM, 32GB internal storage and supports microSD cards for expandable storage. Powered by a 3,400mAh, Lumia 1520 has connectivity options like 2G, 3G, 4G, Wi-Fi, Bluetooth, microUSB and NFC.
The new Nokia Lumia 1520 will compete against the likes of Samsung Galaxy Note 3, HTC One Max and Sony Xperia Z Ultra.
Nokia has also launched a back cover for the Lumia 1520 at Rs 2,999 at the same event.