It was almost exactly one year ago that we reviewed the Lava Iris Pro 30, a phone that we thought looked good but performed below par. Even though it was very obviously iPhone-inspired, it had an appeal of its own. Performance wasn't too great, but overall the device offered a fair balance of features and aesthetics.
A little while later we managed to try out the Lava Iris Pro 20, which looked identical but had even lower specifications in order to reach a lower price point. Those who liked the Iris Pro 30 solely on the basis of its looks had another option to consider. However, this time we felt that the balance wasn't quite right.
The newly launched Lava Iris X8 just goes to show that the more things change, the more they stay the same. The past year has been tumultuous for the smartphone industry in India, particularly at the lower end of the price spectrum. Our expectations of phones priced below Rs. 10,000 in terms of performance and features are way higher than they were just a year ago. We've been spoilt for choice and manufacturers have been pushed into responding, which means better devices at lower prices for everyone.
The Iris X8 launches at just about half the price that the Iris Pro 30 did one year ago, yet the two have spec lists that are worlds apart. Let's see how this changed dynamic works out for the Indian brand.
Look and feel
The new Iris X8 looks pretty much identical to its predecessors. It still has the distinctive flat rectangular shape and faux-metallic trim that Lava copied from the iPhone 4 long ago. The front and rear are both white, and everything is plastic except for the protective Asahi Dragontrail glass in front. On closer inspection, we find a few minor variations: the Iris X8 is a little larger in every dimension, the Micro-USB port and headset socket have been moved, little things such as the sensors and camera flash are placed differently, and the capacitive buttons are printed in a new style.
This is still very much a continuation of the same formula, though, and why not? It worked well and the style hasn't aged badly. It won't be mistaken for an iPhone anymore, which actually helps it feel less like a knockoff. At 160g, you'll definitely feel this phone's weight in your hand or pocket.
Lava's branding is subtle, restricted to a tiny logo on the lower rear. The front is blank except for the printed capacitive button icons below the screen and cutouts for the front camera, earpiece and sensors above it. The power and volume buttons are on the right, and both the Micro-USB port and 3.5mm headset socket are on top. The left and bottom are blank.
There's a dual-LED flash next to the camera lens which looks like it's been incorporated from the iPhone 5/5s design. A silver ring surrounding the camera lens is pretty much the only design flair this phone has.
The rear plastic cover peels off and is surprisingly flexible, so it won't snap even though it feels like it might. Beneath the cover, the first thing you'll see is a large sticker covering the non-removable battery just to discourage people from trying to pry it out. The two Micro-SIM card slots and microSD slot are above it.
Lava's bundled accessories are of rather poor quality. The USB cable that came in the box was extremely thin, the charger felt flimsy, and the headset not only felt cheap but was also uncomfortable in our ears.
Specifications and software
The Iris X8 is bigger than its predecessors thanks to the move from a 4.7-inch screen to a 5-inch one. The resolution stays at 720×1280. The phone is powered by an octa-core Mediatek MT6592 SoC running at 1.4GHz with a Mali-450 MP GPU. Lava also boasts that the phone has 2GB of RAM and 16GB of internal storage space. Up to 32GB can be added using a microSD card, and USB-OTG storage is supported as well.
You get Wi-Fi b/g/n, Bluetooth 4.0, A-GPS and FM radio. There's no 4G cellular connectivity. Thanks to the bigger body, a larger 2,500mAh battery can be accommodated. The rear camera has an 8-megapixel sensor and the one in front is rated at 3-megapixels.
The Iris X8 runs Android 4.4.2 in a near-stock avatar. There are only very minor visual tweaks to the default wallpaper, the app switcher and the notifications shade. For some reason Lava decided to go back to the pre-KitKat navigation button layout, so there's a redundant Menu button below the screen and you have to long-tap the Home button to go to the app switcher. We're happy to see that there are no preloaded bloatware. The only app Lava has added is the free version of Mobisystems' OfficeSuite 7.
There are a few neat settings, such as the ability to wake the phone from sleep by double-tapping the screen, and "Air shuffle", which lets you swipe through photos, music, and even the app drawer just by waving a hand over the screen. It only works in some apps and only if your hand passes slowly over the top of the screen. Even then, you scroll only in one direction no matter which way you swipe, which makes this feature amusing but ultimately pointless.
An optional "Float Task" widget stays partially visible on screen and brings up a circular menu with shortcuts to popular tasks. The shape means that shortcuts can be reached with one thumb, and you can choose which side of the screen the menu will appear on. Swiping will rotate the circle so you can see more shortcuts.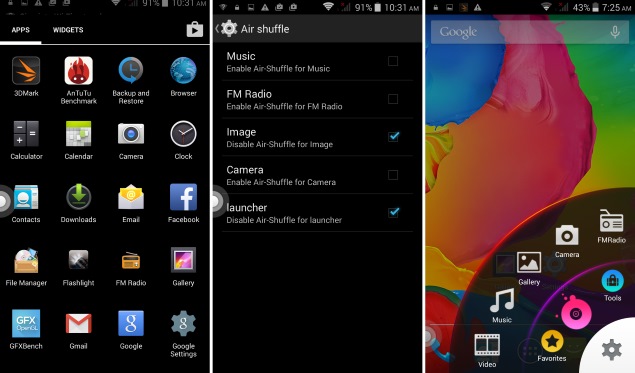 Performance
We liked the way this phone felt and behaved in the time we spent with it. We didn't face any slowdowns or hiccups when launching and switching between apps. It handled most tasks we threw at it, with the exception of playing our most heavily encoded 1080p video files. More common formats and 720p files played perfectly well though.
In benchmark tests, we saw scores that were typical of the MediaTek MT6592 which has been very popular over the past year. GFXBench gave us 16fps and 3DMark Ice Storm's Extreme test returned a score of 6,397 which are good enough for casual games. We managed to get 28,552 points in AnTuTu and 11,657 in Quadrant.
The camera was just not very good. Images came out grainy no matter the time of day, distance between lens and subject, or amount of light around. Even the sky came out poorly in test shots taken on a clear afternoon. Metallic and organic textures alike were poorly reproduced. In addition, the camera had trouble with exposure detection in photos with high contrast. Video was just as disappointing as the stills we took. The camera is probably this phone's biggest weakness.
The Lava Iris X8's speaker is surprisingly loud, but quite awful in terms of quality. Music came out tinny and lifeless, with distorted vocals. The bundled headset was no better for music or movies, but will suffice for voice calls. Battery life was pretty good at 7 hours, 43 minutes in our video loop test.
Strangely, this phone really did not like being plugged in to a PC via USB. We thought the thin USB cable was to blame, but swapping it made no difference. It just wasn't detected until we rebooted it each time.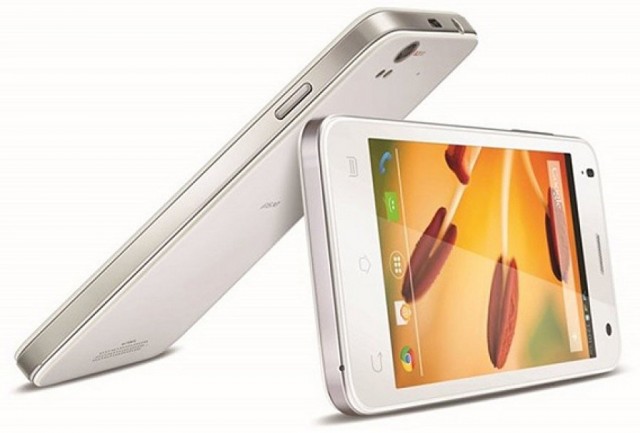 Verdict
The Lava Iris X8 is competitive with similarly priced competitors such as the Xiaomi Redmi Note 4G, Micromax's Yu Yureka , Xolo Omega 5.0 , and even in some ways the Motorola Moto G (Gen 2) . However we feel quite let down by the poor camera performance. If you would like to take photos often to share online or just save for the sake of memories, then this is not the phone to be doing that with. Our expectations are higher than that were a year ago, and any of the other models listed above will do much better.
However, if style is your main priority, you won't be disappointed. In this case, good looks don't come at the cost of battery life. There's also one other factor to consider: most of the highly recommended phones in this price band are available only through flash sales, which means the chances of actually being able to buy them are quite low.