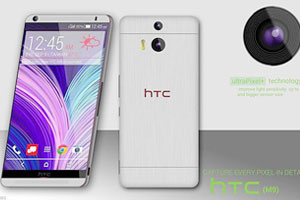 The HTC One M8 went out the door months ago and phone fans everywhere are already eagerly looking ahead to the inevitable HTC One M9. Even before leaks and rumours started emerging there were concept designs popping up as we've reported on in the past.But now some actual news is starting to emerge, so while it's early days yet here's what we've heard and can speculate about so far.
Release date
There's no real news on when the HTC One M9 might release, but HTC tends to stick to a fairly rigid pattern, releasing its flagship phones within a few weeks of MWC.Next year's MWC takes place between the 3rd and 5th of March, so we'll likely see an announcement either during the show or shortly afterwards, with a release sometime in March.
Adding credence to that, the notorious tipster @evleaks wrote that: "Slated for a first quarter 2015 launch, the HTC M9 and HTC M9 Prime will be the next full refreshes of the One Mx family"
Specification
We don't know anything about the specs of HTC's next flagship, but it's possible that they will bear a resemblance to the MIA HTC One M8 Prime, which was rumoured to have a 5.5 inch 2560 x 1440 display with a pixel density of 534 pixels per inch.The super phone was also thought to have a 2.5GHz snapdragon 805 processor and 3GB of RAM and while those specs are all higher than what the HTC One M8 offers they wouldn't be unreasonable for the M9.
If anything the HTC One M9 might be even more powerful than that, as we're likely to start seeing devices with six-core Snapdragon 808 and octa-core Snapdragon 810 processors early next year so there's every chance that the HTC One M9 will be one of them. There's also a good chance that it will run Android L, since that should be available by the end of the year and it may bump the RAM up above the 2GB found in the One M8, since that's not quite so cutting edge any more.
One thing we have heard is that the camera might have an optical zoom. That's almost unheard of in smartphones, with only the Galaxy Zoom range really offering it, one reason for that is that it means the lens takes up more space, so it's hard to make the phone as slim, but it does significantly improve its photographic capabilities.
In a conversation with Vodafone, HTC's imaging specialist Symon Whitehorn said that: "Optical zooming in a smartphone is not too far off at all for HTC. I can't give too much away, but within 12-18 months we'll see huge advances in phone optics."
That doesn't necessarily mean we'll see an optical zoom in the HTC One M9 but it suggests that there's a fair chance. There's also a possibility that HTC will ditch Ultrapixels and equip the HTC One M9 with a 13 megapixel camera like it's been doing with its recent handsets. Or if it's ditching Ultrapixels anyway then it may even go higher than 13 megapixels, but that's pure speculation at this point.

Price
It's not known what the HTC One M9 will cost, but it's going to be a flagship phone and will therefore be very expensive. The HTC One started at around £500, while the HTC One M8 retailed for around £550 at launch, so the HTC One M9 will probably be in the £500-£600 range, likely closer to £600 if anything.