India's Department of Telecom invites application for 2G spectrum auction starting January 23, 2014. The DoT has issued the NIA document (Notice of Inviting Application) to start in 1800MHz and 900MHz band spectrum auction.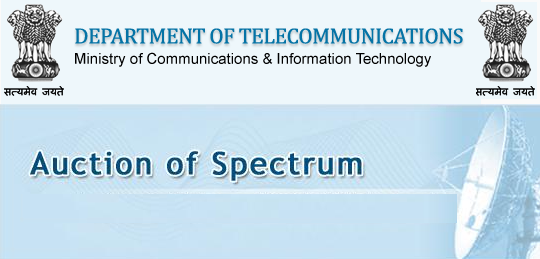 According to the DoT, the award of Spectrum in 1800MHz and 900MHz band shall be conducted as a single process. A common Notice has been issued only for the sake of convenience.The last date for submission of applications by interested companies is January 4.
In each service area or telecom circle, bidders will bid for blocks of spectrum of 200 KHz Paired in 1800 MHZ and 1 MHz Paired in 900 MHZ Band (i.e. the right to use spectrum blocks not linked to any frequency) as per their respective permissible limit dependingupon their categorization as a "New Entrant" or as an "Existing Licensee".
In the auction, since the maximum number of blocks a bidder can bid is restricted on the basis of the applicable bidding caps in a Service Area, it is not possible for a bidder to win more than the same in that Service Area.
Block size shall be of 200 KHz (Paired) in 1800 MHz Band and 1 MHz (Paired) in 900 MHz Band. Minmum number of blocks to be bid shall be 25 in 1800 MHZ band for new entrant while existing licensee shall bid for minimum of 3 blocks in 1800 MHz band. Each Bidder is required to bid a minimum of 5 Blocks in 900 MHz Band
Department of Telecom (DoT) will hold a pre-auction bid conference on December 20, 2013 and last date for companies / operators to seek clarifications on rules stated in 'Notice Inviting Application' is December 28, NIA said.
As per the NIA, DoT had sought 60 days time to start auction from the date cabinet (Govt of India) decides on the spectrum base price and the NIA was to be issued after 15 days of the decision. The DoT has, however, issued NIA within 3 days of Govt of India putting its stamp on minimum price for two sets of 2G spectrum – 1800 Mhz band and 900 Mhz.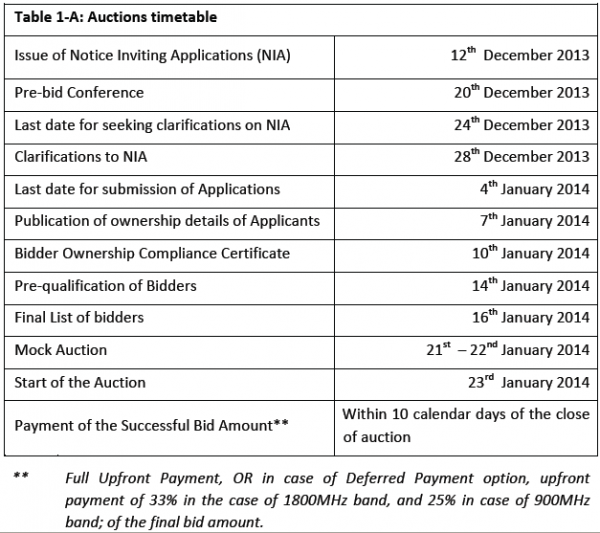 According to NIA, there shall be a moratorium of 2 years for payment of balance amount of one time charges for the spectrum, which shall be recovered in 10 equal annual installments. Successful bidder/operator will have to pay first installment of the balance amount on the third anniversary of the first payment and subsequent installment will have to be on the same date of each following year.
According to DoT, there are no restrictions on the technology (2G, 3G or 4G) to be adopted for providing services within the scope of the service license using spectrum blocks allotted through this auction.
However the successful bidder needs to provide details of the technology proposed to be deployed for operation of its services using spectrum blocks allotted through this auction within one month of obtaining the licence, if the technology happens to be other than GSM/CDMA/WCDMA – 3G to DoT.