LG Chemical and LG Display are set to start mass-producing new all-plastic flexible OLED display panels by July. The firms are said to have given details on the new flexible display technology, and have made the first samples available for customers.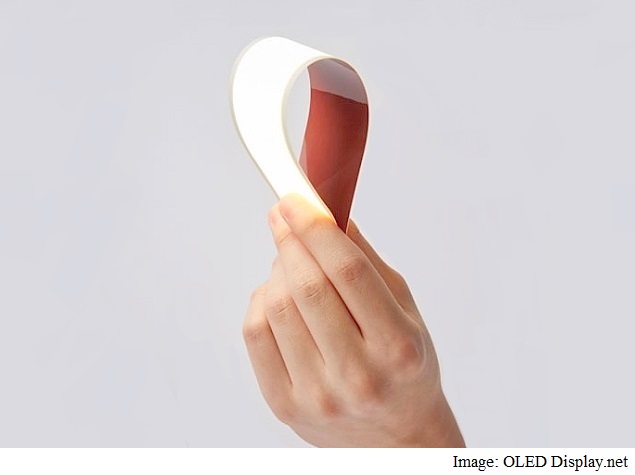 The flexible plastic-OLED (P-OLED) displays made by LG until now (LG G Flex and G Flex2) still feature some glass in them, limiting the bending radius to a maximum of 75mm while also preventing them from being shatter-proof. However, the upcoming all-plastic OLED display panels from LG now feature a bending radius at a much sharper 30mm, and are virtually shatter-proof, as reported by OLED Display website (via Tom's Hardware).
LG is quoted to say the biggest problem with P-OLED displays is that they are not as efficient, bright, or accurate (in terms of colour reproduction) when compared to their glass-based counterparts. The company reportedly overcame these problems with improvements in its barrier and encapsulation technologies.
The new flexible display by LG is said to have an efficiency of 60 lumens/Watt, feature 807 nits peak brightness output, a 3000K colour temperature and a CRI (Colour Rendering Index) of 85. So while the display might not be the best in the market as compared to other glass-based displays, it comes close.
LG not only plans to limit its upcoming flexible P-OLED displays to smartphones, but also bring it in tablets, PCs, TV sets, and car dashboards. The South Korean tech firm has added that by 2017 it hopes to create foldable computers. This is of course no mean feat, requiring a significant number of flexible components apart from just the display, from the motherboard to the battery and body.
With the mass production said to begin in July, it remains unclear just how LG will introduce these flexible displays to the world. We may witness the first smartphone using the technology at the CES 2016 expo with the LG G Flex3, but that is still a long way away.
On a related note, LG Display on Wednesday posted the highest quarterly profit in almost four years for Q4, with figures via Reuters.The profit is said to include a huge chunk due to the rise in demand of company-made LCD displays by television makers and its client Apple. While the firm forecast a drop in profits for its traditionally weak first quarter, the South Korean tech firm may see a spike based on sales to the Cupertino firm for its Apple Watch, which is now scheduled to launch in April.