More leaks and rumours about the Galaxy S6, Galaxy S6 Edge and its accessories continue to flow in just days before Samsung's MWC 2015 event in Barcelona. While a new report now shows alleged photos of the Galaxy S6, a few details about availability, pricing and the anticipated wireless charger have also surfaced online.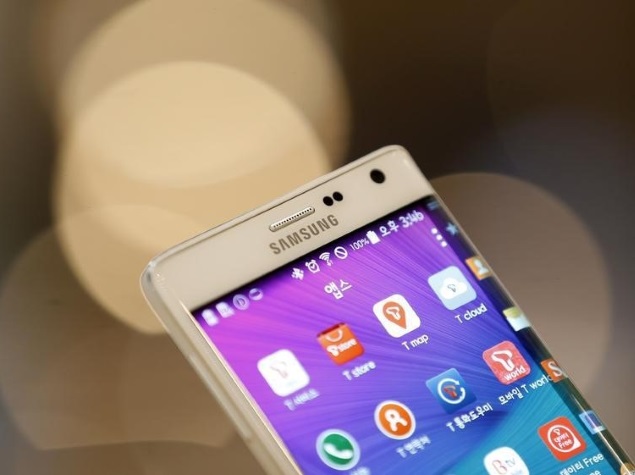 The alleged Samsung Galaxy S6 photos, leaked by German website Allaboutsamsung and an XDA forum member, show a brushed metal frame. The front and back panel of the handset is said to be glass-coated, something that was teased before by Samsung Norway. The Galaxy S6 Edge was however, missing from leaked photos.
Interestingly, the alleged Samsung Galaxy S6 images also show a slightly protruding rear camera and a bolder curved corner design similar to the iPhone 6. Also, as seen in the images, there seems to be no microSD card slot, and no removable battery. The source claims that the handset is a pre-production AT&T model. It also has a 'not for sale' stamp on the back panel.
Coming to its availability, an anonymous source from a UK-based carrier company has revealed the price range Samsung will be selling its new flagship phones at. Speaking to Ars Technica, the source says the Galaxy S6's 32GB, 64GB and 128GB inbuilt storage variants will for carriers be priced at EUR 749 (roughly Rs. 52,800), EUR 849 (roughly Rs. 59,800), and EUR 949 (roughly Rs. 66,900) respectively. The Samsung Galaxy S6 Edge will be EUR 100 more than the Galaxy S6 for all the storage variants.
In addition, the Galaxy S6 Edge might face some limited availability issues due to the low yield of the dual-curved displays. The displays are also said to feature a new technology. The source adds that the Galaxy S6 Edge comprises of one-third of the total Galaxy S6 units, which is also a huge number.
Lastly, a new FCC document of a Samsung wireless charger corroborates a Samsung executive's hint that the Galaxy S6 will feature wireless charging support.
The FCC document shows the model number of the accessory as EP-PG920I. The document (via GSMArena) however, has very little information but it does mention that the input voltage will be 5V at 2Amps. Also, the charging current is said to top at 645mAh.