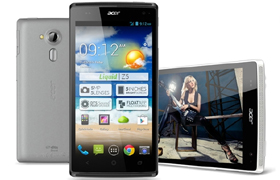 New Delhi: Acer unveiled the Acer Liquid Z5, a budget smartphone that features a 5-inch screen with a 16:9 aspect ratio. It is 8.8mm thick and has rounded edges. The phone's front speaker is claimed to have DTS tuned sound for a richer audio experience.
It is encased in a glossy exterior in Essential White or Gentle Grey. Powered by Android 4.2.2 Jelly Bean, the Acer Liquid Z5 weighs 147 grams. It is powered by a dual-core 1.3 GHz processor, and has 4 GB of internal user storage, Wi-Fi, integrated GPS, and a 5-megapixel camera.
Its 5 megapixel auto focus camera supports BSI technology that enables more light than traditional FSI, thus delivering better low-light sensitivity. According to the company, the phone comes with 5 lenses instead of the traditional 4 to make photos even sharper. It has a f2.4 aperture providing 25 per cent more light to the sensor. It is also equipped with an IR filter that reflects infrared light, delivering more realistic photos.
The Acer Liquid Z5 features four distinct Quick Mode profiles for different user and age groups. The Basic Mode is for youngsters with fixed call and text functions; the Classic Mode offers the main functions in a simple and organised layout for first time smartphone users; the Keypad Mode is for people who primarily use voice and need their keypad right away; and the Easy Senior Mode offers messages, radio, weather, magnifier, clock, quick call contacts for the convenience of elderly users.
The Acer Liquid Z5 will be available in France, Benelux, Germany, Spain, Portugal, Ukraine and UK from mid-January for €169 ($230). A range of optional accessories including flip cases and protection cases will be available for the phone.
The company has unveiled the phone a few days before the CES 2014 event kicks off. Acer is expected to showcase the phone at the event.