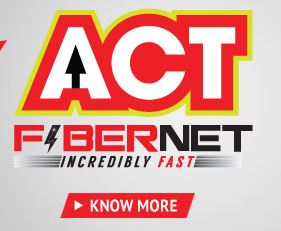 ACT (Atria Convergence Technologies Pvt. Ltd.) is a triple play service provider offering an interesting ensemble of information, communication and entertainment through the following state-of-the-art services:
Fibernet
Digital T.V
Analog T.V
IPTV
Headquartered in Bangalore, ACT is spread across the towns & cities of Karnataka, Andhra Pradesh & Tamil Nadu. ACT presently has a gratifying 1 million+ subscribers.
The founder of ACT, Mr.Sunder Raju is the most respected personality in the Indian Cable Industry with an experience of more than 10 years. The senior management team of ACT consists of experts with experience in varied industries like FMCG, Entertainment, Information & Technology, Telecom etc.
ACT has been funded by IVFA (India Value Fund Advisor).
ACT Internet Plans | ACT Broadband Plans | ACT broadband Tariff
Tags: ACT Broadband Plans, ACT AP Broadband Plans, ACT Telangana Broadband Plans, ACT Hyderabad Broadband Plans, ACT Karnataka Broadband Plans, ACT Bengaluru Broadband Plans, ACT Bangalore Broadband Plans, ACT Chennai Broadband Plans,