Samsung has launched larger display smartphones under Galaxy Mega brand in India. The first two phones Mega 5.8 and Mega 6.3 come with 'Stay Smart, Live Large' tag and combine the portability and convenience of a smartphone with the power, multitasking capabilities and extensive viewing experience of a tablet.
"Consumers in India as in other parts of the world are preferring the larger screen displays in their Smartphones owing to the time they spend doing more with their devices – staying connected with their work and friends/family , web browsing , extensive multimedia viewing and more," states Mr. Vineet Taneja , Country Head , Samsung Mobile and Digital Imaging Business ."To meet the varying lifestyles of our consumers, we are very pleased to offer the GALAXY Mega which further enriches the product portfolio of our award-winning GALAXY series."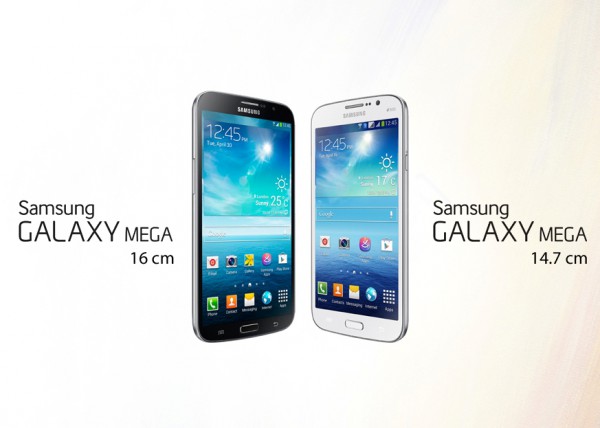 Best of Both Worlds
The GALAXY Mega is an ideal choice for customers who want to get the most out of their device: device that brings great quality at an even greater value. The GALAXY Mega enables an exceptional widescreen view for various applications including web browsing, video, and SNS.
The GALAXY Mega is also light and thin for incredible portability and easy, convenient mobile phone use. Customers can stay connected with a variety of new phone features including:
Group Play: Enables easy content sharing of games, documents and pictures
Samsung Link: Easily streams photos, videos, notes, or music to your television, tablet or computer
S Translator: Say or text what you need translated into the GALAXY Mega, and it will provide instant translation, using text or voice translation on applications including email, and ChatON.
Productivity and Multimedia for the Multi-Tasker
GALAXY Mega users will accomplish more with the rich, interactive experience and increased usability of the widescreen mode. Split screen capability for a variety of applications including email, messages, 'MyFiles,' 'S Memo,' and more, makes for increased efficiency. With the popular 'Air View' feature available in the Galaxy Mega (6.3 inches), customers can preview information in emails, photos in Gallery, and speed dial contacts.
The GALAXY Mega is equipped with an enhanced 8 megapixel rear-facing camera with a 1.9 megapixel front-facing camera, along with a variety of camera modes including 'Sound & Shot' (captures 9 seconds of sound and voice together as the picture is taken to capture moments), 'Sports' and more. The device also packs various newly-introduced features for endless entertainment, including: 'S Travel': Provides trip information, local guides and resources and more and 'Story Album': Allows customers to create albums of daily events, keep special moments in one place using a timeline, geo-tag information and publish digital albums in hard copy.
Both GALAXY Mega 6.3 inches and 5.8 inches run on the latest Android 4.2 Jelly Bean experience, and feature Dual Core Processor, spacious internal storage along with up to 64GB of expandable memory to store favorite apps, music, videos, photos and more. The devices' advanced software also facilitates more efficient processor use for improved battery life, meaning users can enjoy longer talk time and multimedia use.
Product Pricing: The Samsung GALAXY Mega 5.8 inches will be available in the market within a week , while the GALAXY Mega 6.3 inches will be introduced in the market in mid June 2013. While the GALAXY Mega with 5.8 inches qHD TFT Display screen is priced at Rs 25,100/- , the GALAXY Mega with 6.3 inches HD Super Clear LCD Screen is priced at Rs. 31,490/-.
Special Offer from Reliance and Vodafone: The GALAXY Mega is being launched with special offers from RCom and Vodafone . RCom customers buying Samsung GALAXY Mega will get 2GB data per month free for 3 months as well as unlimited access to Big Movies Library , unlimited WhatsApp , Twitter , Facebook during this period . Vodafone customers too will get access to 2GB data download per month free for two months (3G + 2G).
Galaxy Mega 6.3 Specifications:
Galaxy Mega 5.8 Specifications: