Vodafone India yesterday announced the launch of Vodafone Music Android Mobile App and WAP portal with a unique features which will allow its customers to experience a new age of entertainment via mobile Internet.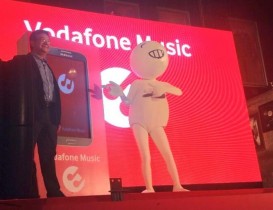 Vodafone launched a totally new, comprehensive streaming and download music service – Vodafone Music offering a musical treat for its 155 million plus consumers. It is available on WAP on all phones and via an Mobile APP on Android smartphones. This App would be on other operating systems soon.
Vodafone India's Prepaid and Postpaid customers can Listen, watch & download from Music from Vodafone Music App on their android mobile phone or from dedicated WAP portal vodafonemusic.in which will be accessible only from Mobile Phone with VodafoneLive service.
Customer can stream unlimited music and video for no additional content charges. For customers who wish to download content, the same is available via Pay Go tariff for as low as Rs.3 per single song, Pay Go Value for Rs.10 per 5 songs and Pack charges that are as low as Rs.99 per  month, Rs.29 per  week & Rs.5 per day for unlimited downloads.
With Vodafone Music App, subscribers will be able to create their own playlists. This app allows users to test the app its performance, it does not shed any light on the range of music available, as the trial is limited to those default playlists.
Vodafone Music App is now available in GooglePlay store for android moile phone users and or one can send SMS MUSIC to 111 for direct download link.